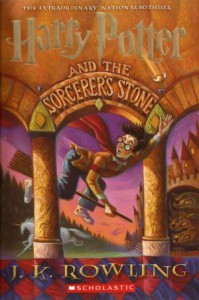 Harry Potter has never played a sport while flying on a broomstick. He's never worn a Cloak of Invisibility, befriended a giant, or helped hatch a dragon. All Harry knows is a miserable life with the Dursleys, his horrible aunt and uncle, and their abominable son, Dudley. Harry's room is a tiny cupboard under the stairs, and he hasn't had a birthday party in ten years.

But all that is about to change when a mysterious letter arrives by owl messenger: a letter with an invitation to a wonderful place he never dreamed existed. There he finds not only friends, aerial sports, and magic around every corner, but a great destiny that's been waiting for him... if Harry can survive the encounter. (source)
This review is going to be brief, because this is a book that I have read over and over again. It had a huge impact on my childhood and my literary experience. I adore the Harry Potter series, and there's not really too much more to say than that.
Harry Potter and the Sorcerer's Stone serves as the perfect introduction to J.K. Rowling's magical tale about the Boy Who Lived. We get to see the wizarding world through the eyes of its hero, Harry Potter, which is perfect, because it's just as new to Harry as it is to the reader (at least, the first-time reader). I know that there are people out there who don't like this series, but I don't know how you can read this book and not lose yourself in the magic of Hogwarts and Diagon Alley and all the rest of it. I don't know how you can not laugh at the ridiculous situations that Fred and George Weasley cause, or how you can not be terrified on Harry's behalf on how badly Voldemort wants to kill him. I don't know how there people out there who don't appreciate the messages that Rowling weaves into her books - there is no greater power than love; always stand up for those weaker than you; it's better to forgive than to hold onto hate.
There are two things about the Harry Potter series in general, and this book in particular, that I think are exceptionally commendable. First of all, it's crazy how meticulous Rowling is with details. There are so many little things that happen in this book that seem so insignificant, but as you continue with the series, they end up being crucial to the storyline. The planning that reflects is immense. Secondly, I love how the Rowling's writing style matures as Harry grows older. The writing in Harry Potter and the Sorceror's Stone is simple and childlike, perfectly suited for children who are Harry's age and most likely to be reading the book. As Harry ages, the books do, too. By the time he's 17 in Harry Potter and the Deathly Hallows, the plot has grown more intense, the books have grown longer, and the writing style, while not exactly as sophisticated as, say, Tolkein's, is certainly higher-level. I think this is very clever and I really appreciate this attention to detail.
If you have not yet read the Harry Potter series, I highly recommend it. This is a series that I re-read at least once a year - I have done this for well over 10 years now - and I cannot wait to one day read it with my own children, assuming I'll have some. No matter how many times I read these books, they never fail to take me away to magical places and entice my imagination - and that's why they're among my favorites.